Wildflowers from the hiking and biking trails of the eastern US
It seems like its been an awfully long winter, but spring has finally sprung. Check out our new photos, including harbinger of spring. We've been looking for that one for-freakin'-ever!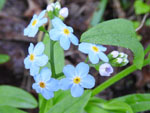 Wildflower of the Week:
True Forget-Me-Not
We started out as wildflowers from the bicycle trails of western Pennsylvania, but we've grown!