Wildflowers from the hiking and biking trails of the eastern US
Take poison hemlock, for example. Lots of members of the parsley (carrot) family look alike. Use the ...may be easily confused with... information on our detail pages to help you distinguish between similar plants.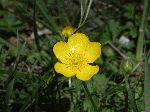 Wildflower of the Week:
Common Buttercup
We started out as wildflowers from the bicycle trails of western Pennsylvania, but we've grown!