Wildflowers from the hiking and biking trails of the eastern US
We've just completed a complete update to the site. You won't notice much difference at a desktop computer, but you should notice a big improvement on phones and tablets. Happy browsing!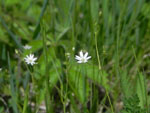 Wildflower of the Week:
Long-Leaved Stitchwort
We started out as wildflowers from the bicycle trails of western Pennsylvania, but we've grown!